Remote Control for Harmony Hub allows you to control your Logitech Harmony Hub from a Mac. Use your computer to turn on and off devices or switch activities.
Start watching TV, switch TV inputs, change the volume, or event turn on a smart light bulb all from your desktop.
Easily switch between connected Hubs. Run activities or control individual devices with an easy to use interface that mimics Harmony remote controls.
Our updated interface also supports using keyboard keys and Touch Bar. Quickly control your entertainment devices without looking at the screen or clicking.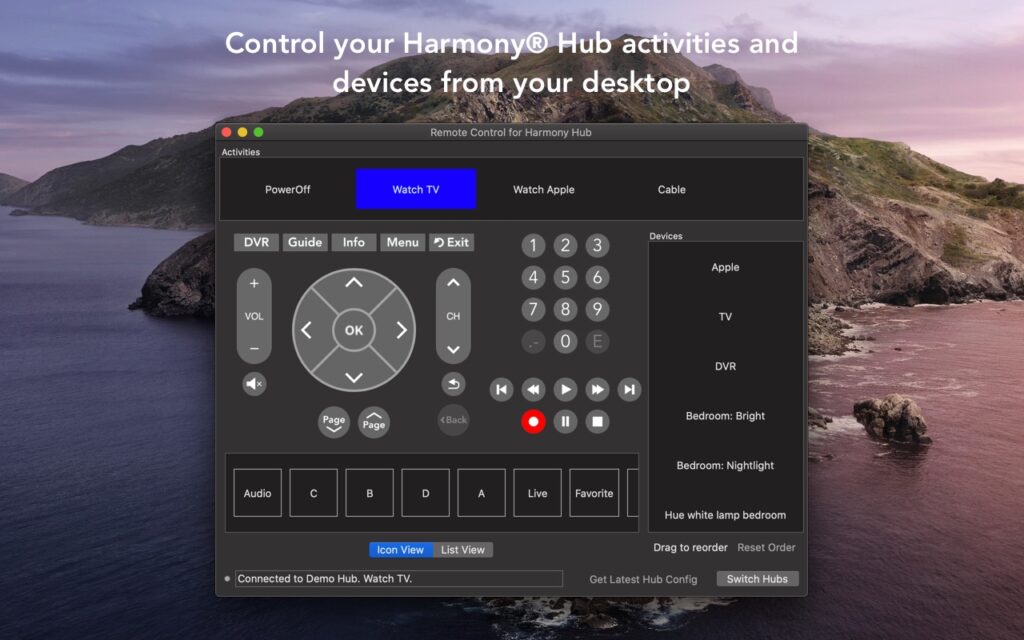 Control your Logitech® Harmony® Hub from your Mac
Start and stop activities, control devices, and smart home accessories from your macOS desktop. Supports Catalina, Mojave, High Sierra, Sierra, and El Capitan.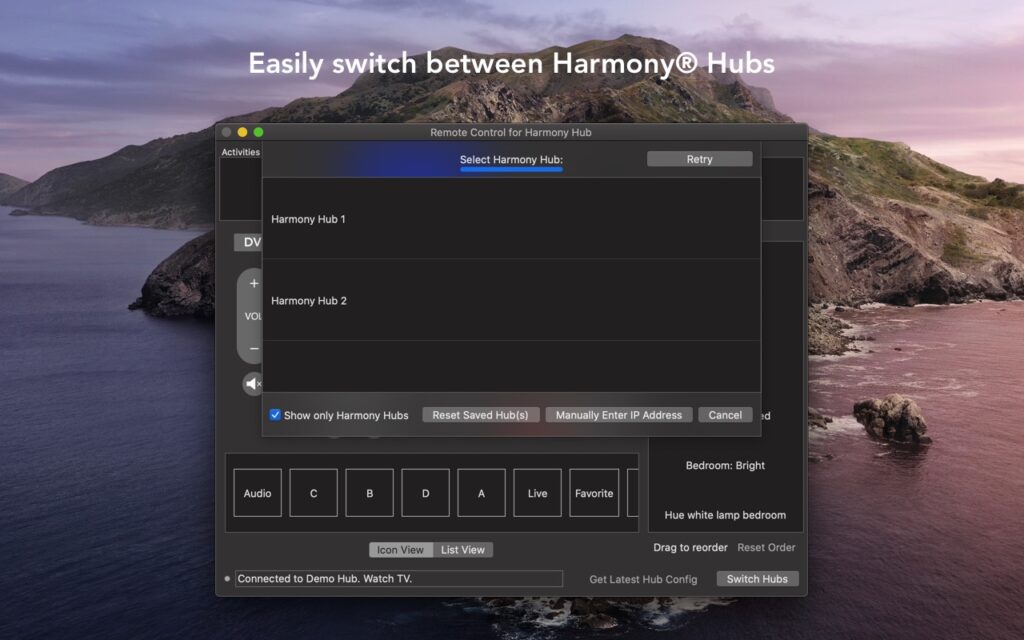 Discover and Connect Automatically
Easily connect and switch between Hubs. Automatically discovers and connects to previous Hubs. Supports an unlimited number of Hubs.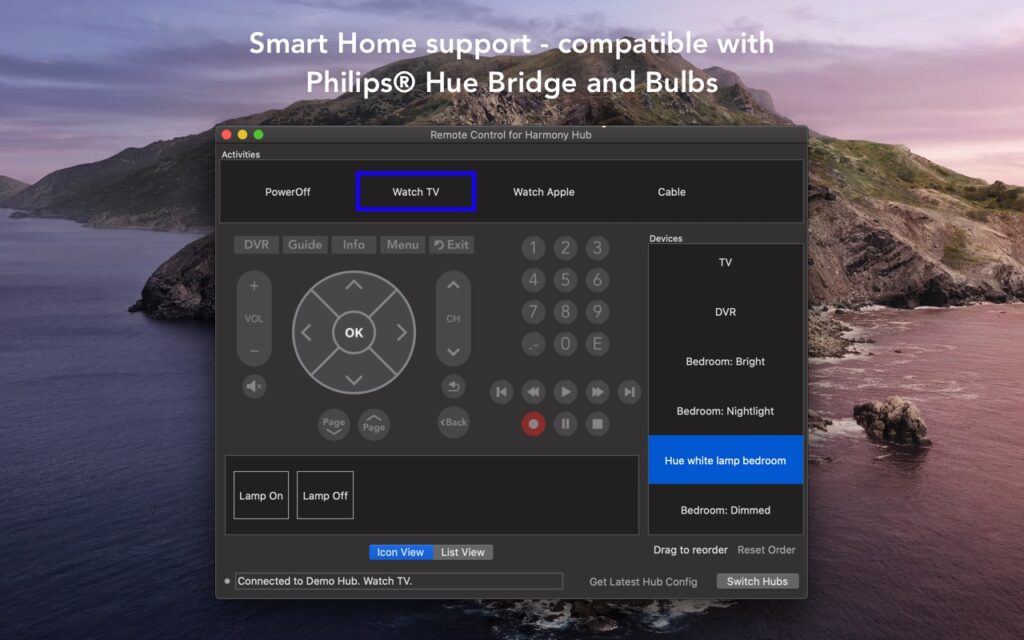 Smart Home Accessories Support
Turn on and off light bulbs, run home automation scenes. All from the comfort of your Mac. Control your Philips® Hue supported smart home accessories.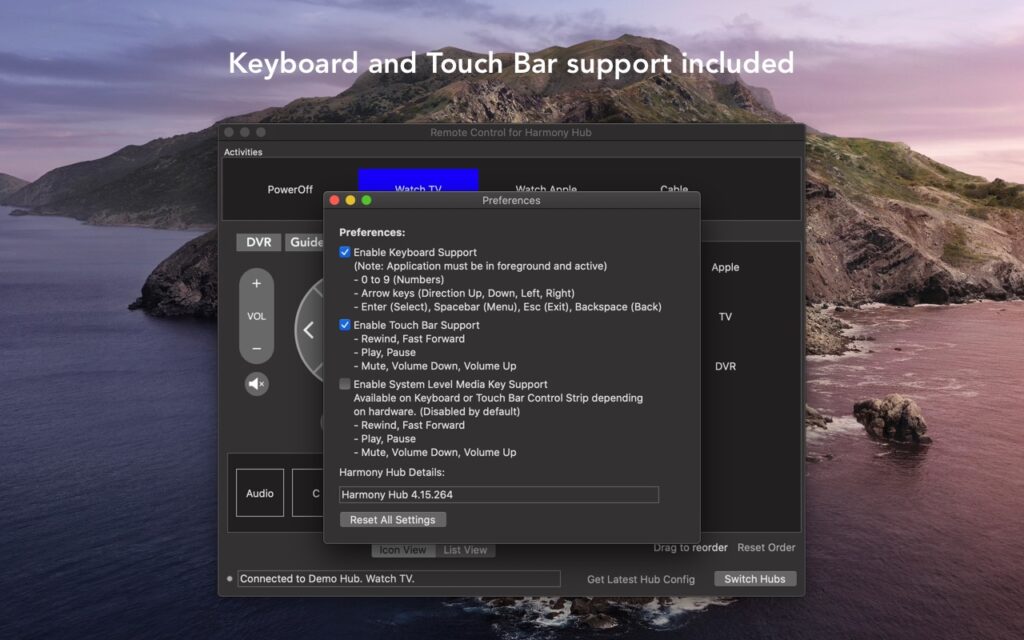 Keyboard and Touch Bar Support
Easily navigate and send commands to your Harmony Hub using your keyboard and Touch Bar.
Additional Features
Works with the latest firmware version, doesn't require beta firmware or settings.
Uses latest secure communications protocols.
Supports the following macOS (OS X) versions:
macOS 10.15 Catalina
macOS 10.14 Mojave
macOS 10.13 High Sierra
macOS 10.12 Sierra
macOS 10.11 El Capitan
YouTube Demo
https://www.youtube.com/watch?v=y7uPLvxHzHw&feature=youtu.be
Support
Help and support for Remote Control for Harmony Hub is available here.
Notes
Requires purchase and configuration of Logitech® Harmony® Hub.
The official app from Harmony is required to configure your Harmony Hub. This app doesn't support initial setup and configuration of a new Harmony Hub.
Disclaimer
This product is not affiliated with Logitech®. Logitech® and Harmony® are registered trademarks of Logitech International S.A.